Every kid has dreamed about going to Orlando, and quite a lot of them get their wish granted judging by the amount of little terrors running around the place. However in all my Disney fuelled excitement, I totally forgot that this wasn't a magical dreamland and that things might not go exactly according to plan. Basically, I wasn't prepared. Here are my hints and tips for surviving Orlando in the most painless way possible.
---
1) Avoid Children 
99% of the stresses of Orlando appear to come from children. I know that it's a place meant for kids but the whole city would be a lot better if they just banned anyone under the age of 12. If you can avoid taking your own kids, leave them! You'll have a much better time for it. From tantrums to being too short for all of the rides to waiting in line for two hours to take a photo with a princess, children in Orlando are the biggest hassle of all. Worst of all, they're all made to think they're princesses which makes them all around 20 times more bratty and irritating.
2) Be Prepared for Rain
If you go to Orlando in the summer it WILL rain. And I don't mean a few showers, I mean a tropical storm every day. Make sure you pack ponchos or raincoats as buying one there is stupidly expensive. Lucky enough to avoid the rain? You'll get wet on a lot of the rides anyway.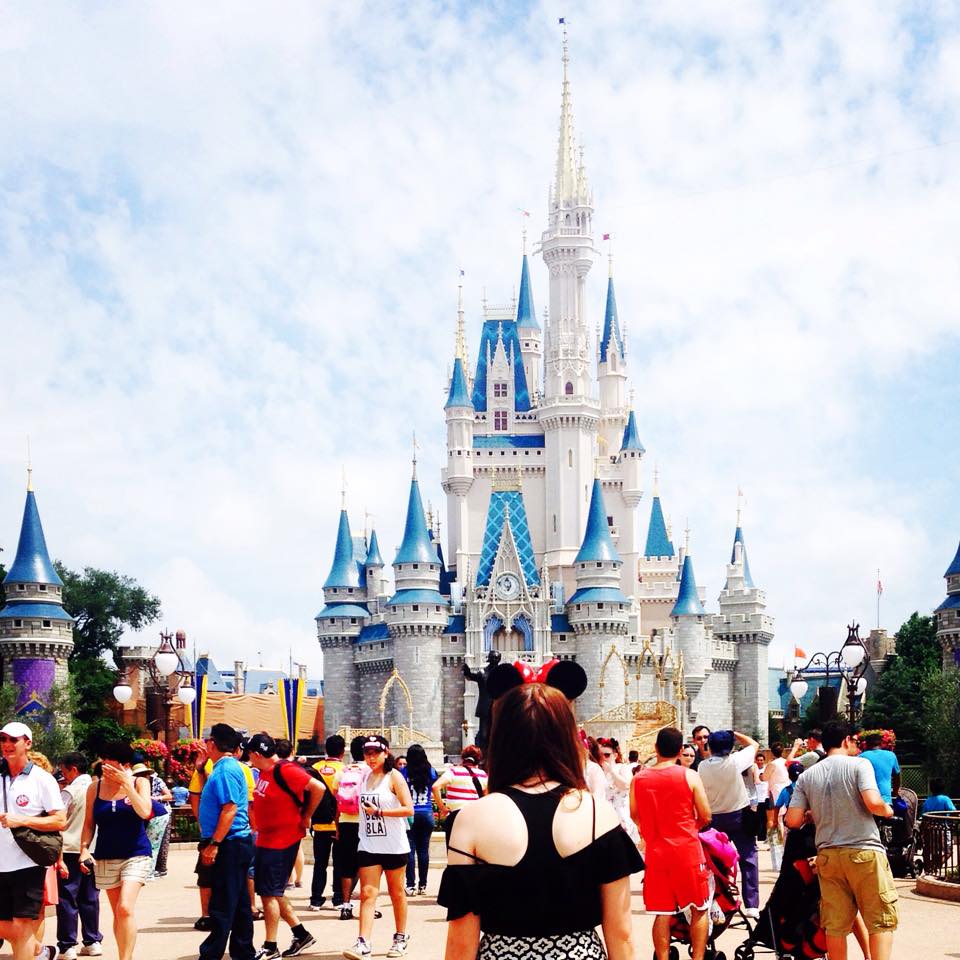 3) The Temperature is Never Right
As you leave the hotel in the morning you'll be greeted by temperatures of around 100 degrees Fahrenheit, so naturally, you assume minimal clothing is a good way to go. However, the theme parks know it's cold so provide lovely air conditioning in many of the queues, restaurants and shops. This is delightful for the first 10 second until you realise you're standing in a freezing cold room wearing shorts and a vest. Also, the heat very rarely recovers back to its previous temperature after the rain storms so adding some light layers to your rucksack are a good way to go. That brings me on to…
4) Take a Rucksack
I don't care if it doesn't match your outfit you're not going to want to be carrying around a handbag for 14 hours. Put everyone's stuff in one rucksack and take turns carrying it throughout the day. Your backs and shoulders will thank me.
5) Arrive at Opening Time
Of all people, I know that waking up is hard. But in this case, it's worth it. Getting there at opening time means you avoid the huge queues to get in and can jump on at least two big rides before the masses descend. Another tips would be to start from the back of the park in the morning as the queue times will be way shorter.
Heading to Orlando? Buy your tickets here!
6) Budget for Parking
The parking prices at both Disney and Universal are $17 a day so be aware of that, or find somewhere else to park your car. If you're staying in a Disney resort then you can get the free bus to the Disney parks but it's very hard to get to any other parks without a car, although if you can afford a Disney resort, you can afford $17 in parking, let's be honest.
---
I hope you a great time I you're visiting Orlando soon! If you're going with kids….good luck.
Katie x