Never heard of Sziget? Well it's time to get the 7 day extravaganza on your festival radar. The event brings the best of music and arts, oh and 500,000 people (not all at once, thank god), to a small island in the middle of the Danube in Budapest. Some of the biggest names in pop, such as Rhianna and Muse headlined this year, with a great line up of lesser known, international acts accompanying them across the entire week.
Buying Tickets
There are several different types of ticket to consider when planning your trip to Sziget:
Day passes are available for those who want to add a short festival experience to their Budapest holiday (or for locals). These grant access to the island for one day and don't include camping.
5 day tickets grant access to the 5 main days of the festival, usually Friday to Tuesday. The price includes camping on the island, although it's pretty hard to get a spot by then.
7 day tickets include access to the full 7 days, with the first days being described as day -1 and day 0. This year, Rhianna headlined day 0 so, although the organisers seem to claim the real fun starts on day 1, you really don't want to miss out now do you?

Early move in tickets

 allow you to come and set up camp a few days early. While I would definitely not recommend sleeping in your tent for those few days, it might be a good idea to pitch early to secure a spot in the shade. I arrived early on day -1 and the whole island was practically full already.
If you can, buy your tickets well in advance. The price constantly rises throughout the year so get in their early to get the best deal. Also the first batch sold come with free t shirts, posters and a golden ticket which can be exchanged for a VIP experience. All tickets can be bought from the website, here.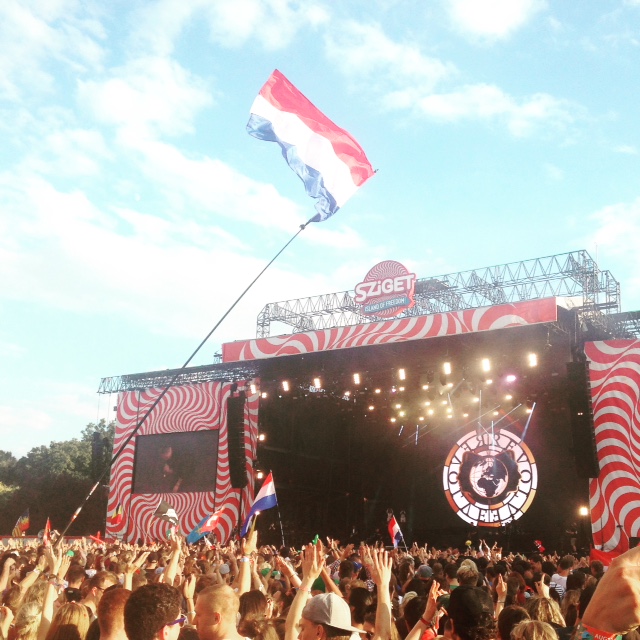 Getting There
It's fairly easy to get to Sziget from town. You'll need to buy 2 single tickets from a BKK machine then hop on the metro to Batthyany Ter on the M2 red line. This will use one of your tickets. From there, take the suburban rail to Filatorigat. There will be plenty of posters with instructions around the metro stations and extra guards will be in place to help out. The festival is just a short walk from Filatorigat and is sign posted (if you're luckily enough to not have to queue straight off the train).
Where to Stay
Camping is definitely the cheapest option for accommodation. I would recommend camping if you really want to get involved with all the festival has to offer. As you're based on the island, you're more likely to get up for the day time activities and don't have to worry about getting home after a long night. For a festival, the shower and toilet facilities aren't horrendous so the week was actually a lot more comfortable than I expected.
There are a few

h

ostels around the island and obviously loads in the city itself. They do tend to jack up the prices for the week though as so many travellers decend on the city. There is even a dedicated Sziget hostel but it can fill up fast.

AirBnB

is always a great option in eastern Europe as you can get a lot for your money. If you're staying in a group, an AirBnB is both cost effective and more luxurious than a hostel. Plus you'll be very thankful for that private bathroom.
What's On
Basically, what isn't on. Whilst the music is the main draw for most, the beauty of Sziget is that there's so much more!
The Cirque du Sziget showcases numerous, breathtaking circus acts but you have to get there early as it's way more popular than you'd think.
The

Luminarium

is basically this giant inflatable, light up sculpture thing that you walk around in. I can't think of a better way to describe it so you'll just have to see for yourself.
The festival holds nightly

themed parties

at the main stage, for example, one night there'll be loads of confetti and one night will be a paint party etc. These are fun if you can make it but I'd never been involved in a paint party before and it felt like the apocalypse was upon us. I didn't breathe fresh air for a good 10 minutes afterwards.
The whole island is full of

art installations

and sculptures for you to find and explore.
If you're in the mood to relax, head to the relaxation zone and take part in a

free yoga class

.
As well as all the great activities on the island, the festival is close enough to the city that exploring Budapest in the day time is a great option. I would highly recommend taking a trip to a spa half way through the week just to have a really good clean. For more on what to do in Budapest, check out my travel guide here.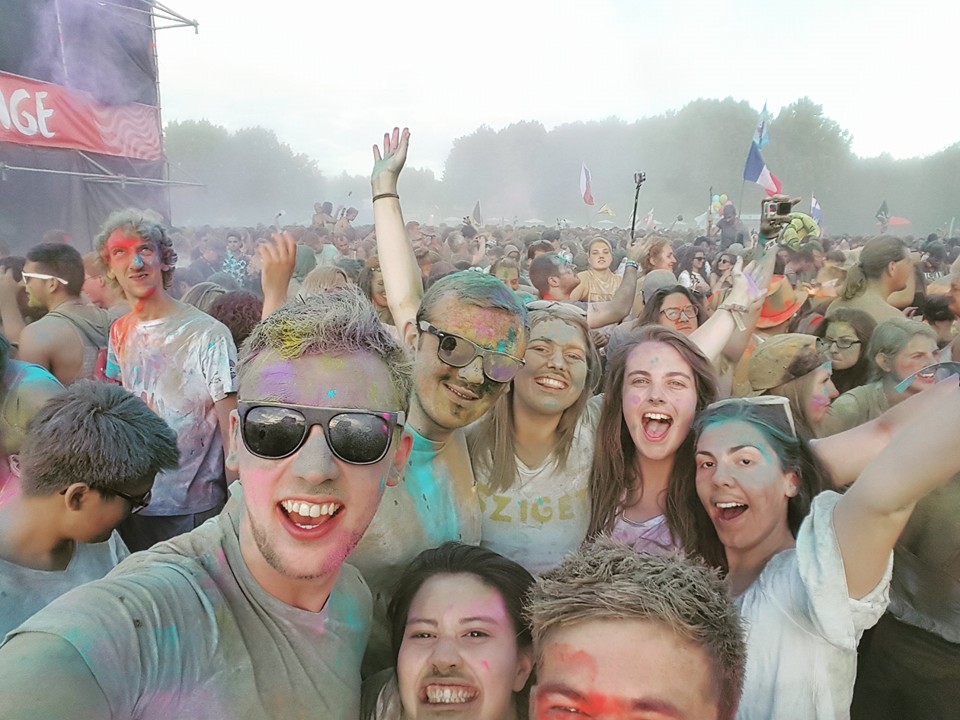 Food
There were hundreds of food stalls available on the island, all paid for via a cashless card system called Festipay which made the whole new currency thing a lot easier to deal with. Meals ranged from pizza slices to gyros to Mexican feasts so there was something for everyone to enjoy. Meals ranged from £2 to about £7 which for a festival is pretty great. Alcohol is cheap too with a beer costing about £2 although considering it would be about 50p outside the festival walls, that seemed steep at the time.
There is an

Aldi

on site but the queues are big and the stock quite expensive.
There's a huge

Auchan

supermarket just a short walk away. This has literally anything you could ever need so stock up on food and drinks here.
You're not allowed to bring alcohol onto the site so we ended up getting pretty creative. Hiding vodka bottles in loaves of bread was our most successful trick.
The Negatives
Day -1 really did feel like day -1

. Everything was open but there were still construction vans driving around and you definitely got the impression that nothing was quite finished yet.
The weather is very unpredictable. We had blazing heat, lightening storms and torrential rain. You need to pack for all of these.
The beach was not a beach. Be warned. We came with 3 bikinis each envisioning glorious days on the sand. But no. The beach was more like a cordoned off section of river bank, or just river depending on how much it had rained that day.
All of the foot paths doubled as road and

there was A LOT of traffic

. I don't know if I'm just too used to the production values of Glastonbury but you did get a feeling that a lot of behind the scenes work was very much going on right in front of you. Whilst nearly running you over.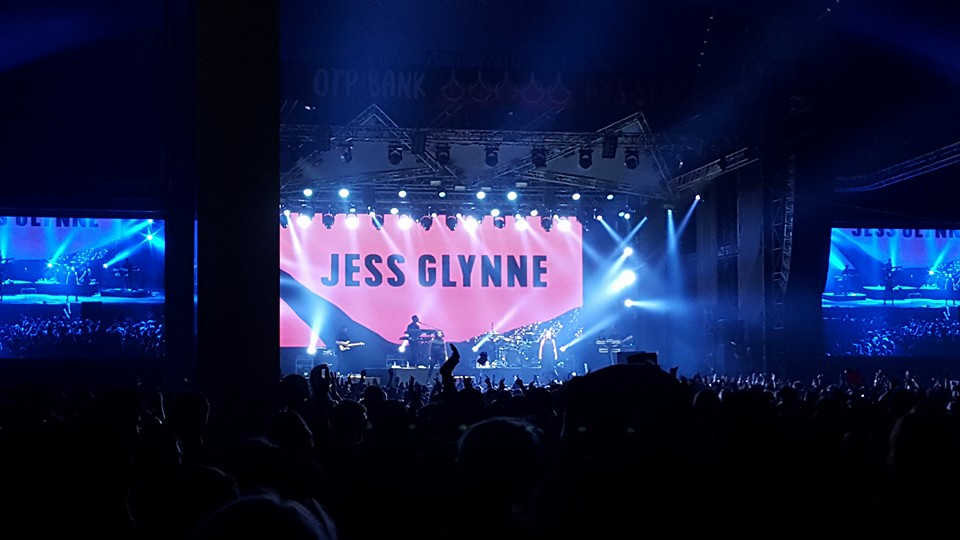 Top Tips
General
Get up and do things in the day. Whether you head out to explore the city or just get involved in one of the many activities the island has to offer, don't waste your day in the tent. For starters, it'll be way too hot in there to get any real sleep, but more importantly, you don't want to miss out on some amazing opportunities.
Try out some new music. 

There's such a huge variety of music on that it'll be easy to catch something new. Whether you head to the jazz tent for the evening or check out the Eastern European headliner the local have been buzzing about, make sure you step out of your comfort zone.

Don't go in expecting to know all the acts. I'd been to Glastonbury just before Sziget and was used to having full days of music planned and having to pick between 3 of my favourite bands, all performing at the same time. Sziget is different. As a British person, I knew most of the headliners, and several main stage performers per day, but that was about it. It makes it all the more important to discover something new!
Shower really early, or really late. The facilities aren't that bad but the queues can be huge if you go at peak time. By 9.00 the queues are already an hour long so either get up before then and race down or go at night while everyone is sleeping or too drunk to care about hygiene.
Camping
Camp in the shade.

As I've mentioned, it can get HOT on the island, especially in a tent in the morning. If you can, pitch your tent in a shady area. If you can't, ride out the midday heat in one of the many marquees.

GET THERE EARLY. I cannot stress to you enough the importance of getting there early. You'll avoid queues at the train station, queues at wristband collection, queues at the entrance, (you see where I'm going). You'll also get a better camping spot which is pretty vital for the rest of your week. Leaving early on the last day won't hurt either.

Bring a tent with you

. You can pre-order a tent to pick up at the festival but they're pricey, tiny and not at all waterproof. The supermarket nearby also sells tents but as you can imagine they're pretty expensive too. You're best bet is to bring a tent from home or to try your luck at a supermarket in the centre of town (although I wouldn't be brave enough for that).
Have you been to Sziget or are you planning to go? Tell me all about it in the comments!
Katie x